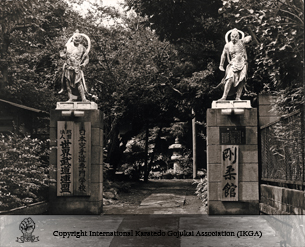 Welcome to International Karatedo Gojukai Association!
IKGA is an international association formed by the late Grand Master Gogen Yamaguchi to help bring Gojuryu Karatedo to the world. Under his leadership IKGA flourished with thousands of members worldwide, and under the leadership of his son, Grand Master Goshi Yamaguchi, the association continues to grow and thrive.
IKGA Karate can be found in Africa, Asia, Europe, North and South America, and Oceania. Saiko Shihan Goshi Yamaguchi travels regularly to each of these regions to teach the highest level of Gojuryu Karatedo to Instructors and Members. Members from all regions that teach IKGA Karate are welcome to visit Hombu (Headquarters) in Japan.
Every 4 years, IKGA countries come together in goodwill and competition for the IKGA World Championships. In December 2013, IKGA India was the host country for this prestigious event. Most IKGA member nations brought their best Karate athletes in the spirit of fellowship and camaraderie for this top level competition.
The next IKGA World Championships will be held in Vancouver, Canada in 2017. We hope to see you there!